..... or what the Hell just happened?
I had no dog in this fight and just wanted a good game.
It was and wasn't that.
A tale of two teams. This was Falcons win through three quarters and Patriots domination through the fourth and overtime.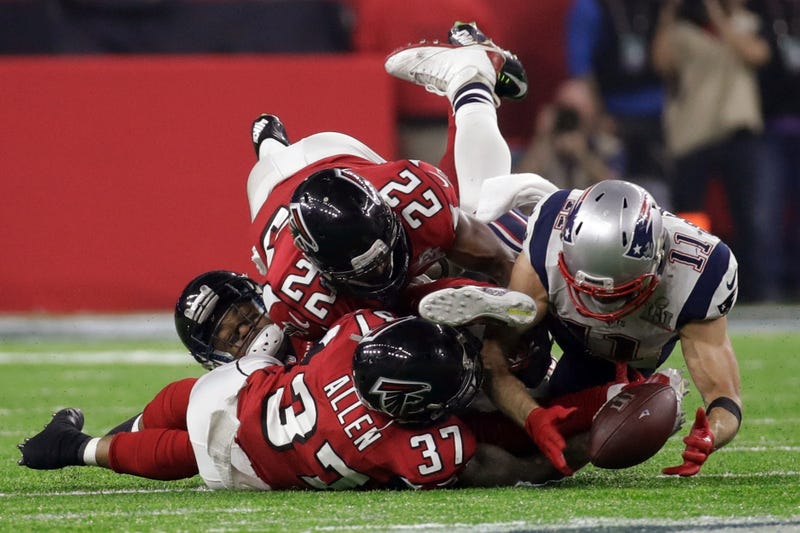 Even if you hate the Patriots, this catch was beyond amazing.
The Falcons dominated and then proceeded to poop their pants for some reason.
Five straight Patriot possessions. Five scores? That was insane!
Yes we all hate the Patriots. Yes there was that video tape business. The deflated footballs was just dumb. Anyone with brain cell one could see that Brady could have been throwing actual cabbages in that game, instead of footballs, and they still would have pants the Colts. They have a rep for shenanigans.
That being said, as a fan of football, their last quarter domination was a sight to see.
Everyone wants a close game, at least that is what people say when it isn't the Patriots playing. This game went from blowout to one of the most exciting games I have watched in the last 5+ years.
Now the commercials were mostly all drek. All that still stands out is the George Takei "Oh my!" Pizza Hut bit, the Super Bowl babies, the avocado commercial with a brief John Lovitz sighting and.....yeah the Snoop and Martha Stewart word play.
Drek commercials and blow out turned incredible comeback is how Super Bowl LI will be remembered by me and mine.