Our intrepid adventurers rode off the next morning looking for a Temple to the god
Torm
.
After a long Lord of the Rings like travel montage with the music and scenery, they arrived at the temple. Of course they arrived during a battle outside in the courtyard. There they saw five knight/crusader types facing off against a small horde of ninja/monks from the Dark Moon.
They rode in and joined the battle!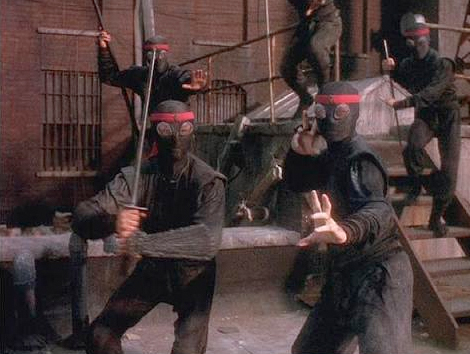 The Dark Moon increased their attacks and even had a pair of members rush toward the temple. The barbarian and rouge teamed up to assault the forces to the right. The new ½ orc warrior and monk rushed to aid the holy knights/crusaders on the left. The battle raged until the Dark Moon losses started to rise. A quartet of them disappeared into the shadows and made their escape. The pair that made their way into the temple were hunted down and killed before they could do whatever it was they were trying to do.
As the battle ended, they two parties met to discuss events. The crusading warriors of
Torm
had been at the temple for only  a few weeks. It was their turn to man this area, maintain the land, provide assistance and do all the daily rituals until this time next year. They had no idea why they were attacked and who was attacking them. There was nothing of value here to steal so they were incredibly confused by this attack.
The party began to police the bodies and found them to be a mix of humans, the body modification humans and a few more of those greenish pointy eared creatures. The crusaders
attened
the wounded and recovered their fallen
bretheren
.
By dusk the group was inside the temple searching for anything of worth. The rooms were all searched. The two small out buildings contained provisions and food stuffs. They found nothing to explain why the Dark Moon had attacked.
By now it was getting on toward night. Watches were set and the waiting began. Waiting for the inevitable attack…that eventually happened.
It was the ½ orc
warriror
who first heard the sound of scratching at the front door. Drawing one of his maces he pulled open the door and swung at the figure kneeling by where the door lock had been.
Then the night erupted with the sound of shattering glass!